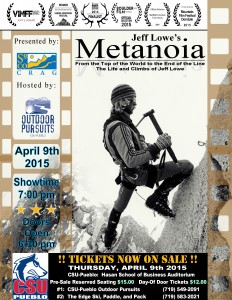 Update:  Metanoia's SoCO premiere was a huge success. About 80 people attended, including a who's who of local climbing. Over $600 was raised to help Jeff with film production and hospice costs. Looking forward to the next adventure film SoCO CRAG can host.
Southern Colorado premiere of Jeff Lowe's Metanoia .A film about one man's journey from the top of the world to the end of the line. Jeff helped make climbing what it is today, through technical innovation and more than a thousand first ascents, including "Metanoia" on the north face of the Eiger, where he experienced a spiritual transformation that continues to this day. Jeff's story inspires us all, as he brings the creativity and strength that characterized his climbing career to the challenge that he faces today: his own mortality.
Advance Tickets $15 for best seats in the house, $12 at the door. Advance Tickets on sale at The Edge:Ski, Pack, Paddle and at the CSU-P Outdoor Pursuits office. Film to be shown in Hasan School of Business Auditorium, Thursday April 9, 7pm. Hosted by SoCO CRAG and CSU-P Outdoor Pursuits. Doors open at 6:30.