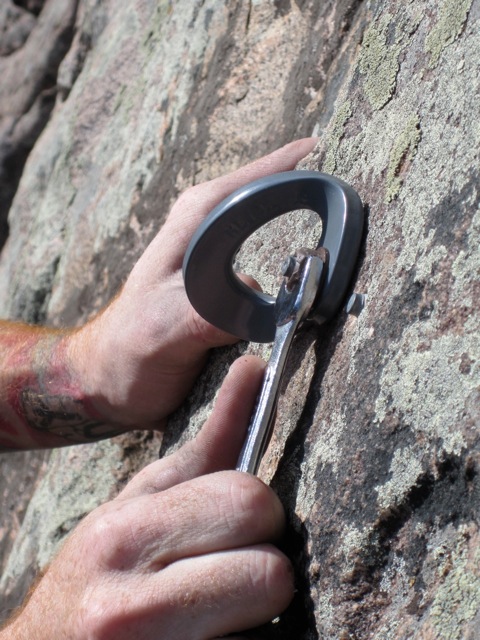 SoCO CRAG members have been replacing anchors around the Wet Mountains with new gear from ASCA (American Safe Climbing Association), ARI (Anchor Replacement Initiative), and our BMF (Bolt Maintenance Fund).
If you see an anchor in need of replacement (i.e., sketchy placement, rams horn, stacked washers and chain, wobbly bolt, etc.), please let us know by email or phone.
Here is our ongoing list of upgraded anchors.
Newlin Creek
Bam Bam, Wild Side – anchor at top of first and second pitch
KC, Wild Side – anchor at top of first and second pitch
True Grit, Creek Side – belay station at top of second pitch
Three Ring Circus, Creek Side – anchor at top of first pitch , June 2012
Brownout Banshee 5.10 middle of Circus Wall-toprope anchor, June 2012
Decadence, Improvision, Memorial Pride, Wounded Ankle; Subnewlin – first four sets of top out anchors on right side of cliff
Unknown 5.10, Circus Wall second route from far left  – top out anchor, Sept 2012
Unknown 5.10b/c, Circus Wall,  third route from far left – top out anchor, Sept 2012
No Vengeance 5.9, Days End(Six Shooter) Wall Sept 2012
Dellinger 5.10b, Days End( Six Shooter) Wall-second route from right
Hot Salami in a Semi(Circus Wall)-Nov 2020
10,000 Tainted Stars (Circus Wall)-Nov 2020
Hardscrabble
Chrystal Highway, Titanic – top out anchor, July 2019
Bumper to Bumper, Titanic – top out anchor, Nov 2013
I Did It My Way, Titanic – top out anchor
Rapid Falls, Titanic – top out anchor
River Lin, Titanic – top out anchor
Road Rage, Titanic – top out anchor, Nov 2013
Road Warrior, Titanic – top out anchor, Oct 2014
Sobriety Check, Titanic – top out anchor
Tuff Turf, Titanic – top out anchor
Torres de Fuego, Titanic – top out anchor, Nov 2013
The Beak, Raven Buttress – first and second belay stations
St. Charles Canyon
Fantasia, Goliath Gorge – top out anchor, Sept 2011
Phantasm, Goliath Gorge – top out anchor, Sept 2011
Surf Colorado, Goliath Gorge – top out anchor, Sept 2011
the rightmost route, Goliath Gorge – top out anchor, Sept 2011
All but left two routes of Junkyard Area, top outs , summer 2018
Beulah/12 Mile Road
Left most route lower formation, Midway-top out anchor Aug 2018
Middle route of lower formation, Midway-top out anchor Aug 2018 
Phantom Canyon
Green Wall, Kahonna Earl, 2nd pitch top out anchor 2017
Green Wall, Patriotic Pleasure, 2nd pitch top out anchor 2017
Green Wall, Two Shot – top out anchor, April 1018
The Vatican, John Paul-top out anchor, June 2020
The Vatican, Francis-top out anchor, June 2020
The Vatican, Ramp it Up-top out anchor, June 2020
The Vatican, Spring Spree-top out anchor, June 2020
The Vatican, Peggy Sue-top out anchor, June 2020
Voyager/Stultz Canyon
Seven of Nine, Upper Voyager-top out anchor, Nov 2018
Long Telomeres, Upper Voyager-top out anchor, Nov 2018
Janeway, Upper Voyager-top out anchor, Nov 2018
Tuvok, Upper Voyager-top out anchor, Nov 2018
Cosmic Thunder, Lower Voyager-top out anchor, Nov 2018
Betazoid, Lower Voyager-top out anchor, Nov 2018
La Vista
  Johnny's Crack, Main Wall-new 1/2″ top out anchor bolt, May 2020