Sunday morning, September 18, rangers and local climbers joined forces for the Wet Mountain Adopt-a-Crag.  The day began with the 3-mile-long drive down the rocky, dirt FR 320 deep into the Wet Mountains. SoCo CRAG and the Pueblo YMCA climbing wall had a strong showing.  The willingness and eagerness of the volunteers was outstanding.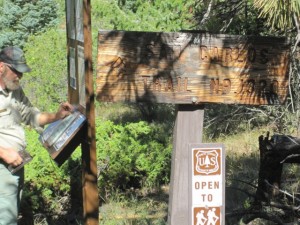 The first order of business at the #1320 trailhead was handing out the official 2011 SoCo CRAG/Adopt-a-Crag t-shirts that were generously donated by Chipopachui.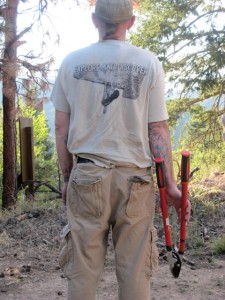 Then, after a brief introduction by myself and the Forest Service we were off to work.  We all headed down the trail brushing overgrown scrub oak as well as cleaning and creating waterbars.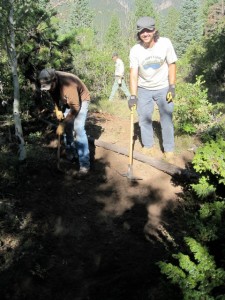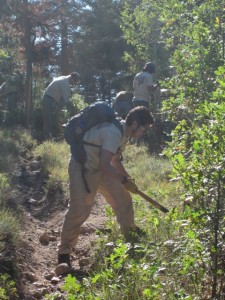 Halfway down the San Carlos Trail to the St. Charles River brushing and clearing the main trail, it was time for nutrients.  James Lopez busted out a late lunch.  He had donated delicious turkey, veggie, and Italian "Taste of Philly" wraps as well as chips, granola bars and chilled bottled water.  Thanks James.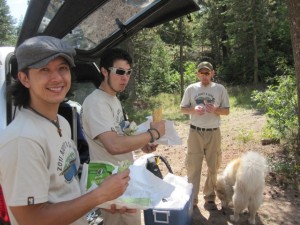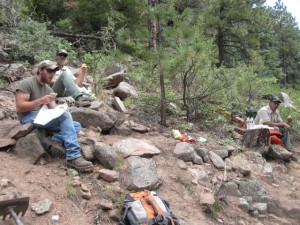 With our energy renewed, everyone was back to work helping to mitigate water drainage and erosion on the main trail leading to the crag.  I made sure everyone got Access Fund and Chipopachui stickers.  Everyone went home with Chipopachui and Access Fund goodies.
After the trail had been brushed and waterbarred all the way down to the rivercrossing, the anchors on the slabs of Goliath Gorge were the next objective.  We headed downstream to the cliff.  All the open coldshuts (rams horns) hangers were replaced with beefy Metolious Rap Hangers donated by James Lopez and a Petzl set donated by the Anchor Replacement Initiative.  Anchor hangers were replaced on:
-Phantasm 5.9-
-Fantasia 5.10c
-Surf Colorado 5.9
-and the rightmost 5.9
As I finally hiked back up to the trailhead at the end of the day I couldn't believe all the work that had been completed.  We accomplished quite a bit on a half mile of switchbacking trail.  I'm sure that everyone is already looking forward to next year.
A huge thanks to everyone that spent a beautiful Sunday afternoon with perfect climbing weather working on trails and anchors instead.  A special thanks to the Forest Service (Lake Isabel Trail Crew: Mike, Randy & Cody) for supporting this event from the idea phase through the execution of the event.  Thanks also to the Access Fund, James Lopez and Taste of Philly, Matt Buck with Chipopachui, Jason Wilson, Jeremiah Tucker and ARI for all your hard work and support.
The 2nd annual Wet Mountain Adopt-a-Crag at Goliath Gorge was a success.
Ben Bruestle
SoCo CRAG

Pueblo, CO